These tours are run quarterly by request.
TOUR INCLUDES:
Private guided tour of MONA Collection by Avec Pleasure Director & staff
Two nights Premium stay at RACT, Hobart – Bed & Breakfast.
MONA Museum entrance fee, return boat travel from Hobart Harbour to MONA.
AIR FARES for the MONA Art Tour are not included in tour fee
Accommodation rate set at sole use. Twin share available on request *
ENQUIRE NOW
Avec Pleasure is Offering Bi-monthly VIP TOURS to MONA in Hobart.
PROPOSED ITINERARY FOR VIP MONA WEEK-END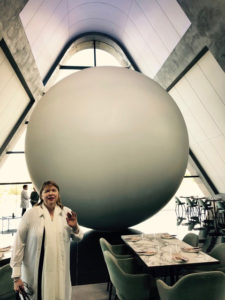 Friday Evening:
Arrive in Hobart by 5 pm so we can enjoy a 'Shared Dinner' at Macq1 'Ole Wharf' restaurant. Although pre-booked for our group, this is an 'add-on cost' for the tour.
Saturday Morning:
We will take the early ferry over to MONA and arrive just before the Museum opens.VIP Introduction by MONA Manager.
Avec Pleasure group will spend first hour exploring MONA together and then the group will have another one & half hours to explore the MONA collection independently.
Group to meet at MONA entrance to head over for lunch at 12:30
After lunch group is free to return to tour more of MONA until 4:30 pm when we meet to discuss the day and wait for the last ferry back to HOBART.
Saturday Evening:
Pub Dinner at LARK Distillery with whisky tasting available for those who dare. Cost of dinner and drinks are an 'add on cost'.
Saturday Evening:
Breakfast all together and Choice of Architectural Walk of HOBART or Tour of newly renovated Tasmanian Museum and Art Gallery TMAG with a 'floor talk' of their Art Collection and Contemporary exhibition space.