"When I first arrived in Australia in 1981 from Britain, I was living in Warrandyte and had the immense good fortune to meet Inge King. I was unaware then as to her profound influence on the Australian art landscape, but I was immediately impressed by her kindness and dedication to her creative art practice."
Anne McG Wright
[ultimate_spacer height="20″]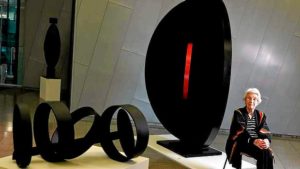 Inge King (née Ingeborg Viktoria Neufeld) was born in Berlin November 26th, 1915, the youngest of four girls from a wealthy Jewish Berlin family. It is important to consider her early life and art influences to fully appreciate her professional work.
"I grew up in a very European middle-class surrounding with a nanny…I didn't see that much of my parents because my early childhood from that point of view was very sheltered. I was in many ways however, fairly extrovert." Inge King, 2000
Berlin was an important center of Modernism in all of the arts in the late twentieth century. The main art movement at this time was known as German Expressionism, a movement King later described as violent and tragic in its nature. A major early influence was the exhibition, "German degenerate art since 1910" held in 1936-37. This show was enormously popular, and drew attendances of more than 2 million visitors. King admitted that she was also influenced by Mediaeval sculpture and Expressionist sculpture, an important part of German avant-garde art.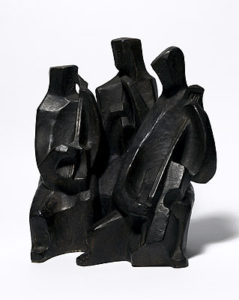 After WWI, conditions in Germany became increasingly difficult. Germany had lost the war and was faced with substantial reparations to the victorious powers. The period of the Weimar Republic (1918-1933), though a culturally stimulating time, was never stable, with continuous political and social unrest and lawlessness, exacerbated by the hyper-inflation of the early 1920s and later by the depression, which started in 1929 in the US and then spread to Europe. During that period, things became increasingly difficult for the Neufeld family.
While considering a possible career as an artist, Inge went to see the German artist Käthe Kollwitz (1867-1945), whose work she admired. Kollwitz had been president of the Academy of Fine Arts in Berlin however, because she was a Socialist, she had been dismissed by the Nazis when they came to power in 1933. She was still allowed to work at home, but not to exhibit in public. Kollowitz did not become Inge's teacher, however the wood-carver Hermann Nonnenmacher (1892-1988), was prepared to teach her. Nonnemacher taught King the basic skills of the art of wood-carving and modeling in clay.
King studied and worked with Hermann until she was accepted into the Vereinigten Staatsschulen (the Berlin Academy of Fine Arts ) in 1937, when she was 21. King eventually left Germany in 1939, with the help of German friends. One helped her to get a visa for England and to put her in touch with a family who wanted to assist refugees. King found England very conservative compared to the Berlin she had grown up in. This discovery was quite a shock. Late in 1939, she was given a scholarship to continue her studies in the UK. She was accepted at the Royal Academy on the basis of the drawings she had brought with her from Berlin and also because she had been a student at the Academy in Berlin. She started there in March 1940 and studied for two terms there before the German bombing raids on London closed the Academy.
[ultimate_spacer height="20″]
"Melbourne was very traditional, there was almost no contemporary sculpture. I didn't know what had happened to me… as a sculptor you are more tied to a place, particularly with the sort of work I do. For a long time – ten years – I didn't know what I wanted to say so I did very little work. But living out here, the Australian landscape began to fascinate me. It is a strange, untidy landscape. It's difficult to gauge your work against it – it's not the size but the power your work has. That is why many of my big circular sculptures are very simple, that great simplicity conquers the landscape."
[ultimate_spacer height="20″]
King returned to England in March, 1950. Back in London, she and Grahame King decided to marry. She would have liked to go back to America. At that time, as a German refugee, she could have emigrated there, but Grahame, as an Australian, could not get a residency permit. She did not want to stay in Europe, and after visiting New York equated Australia with the USA, as part of the bright new world where she could work in a lively and adventurous atmosphere and rear a family. The Kings left London for Melbourne on the Strathaird, arriving in Melbourne in February, 1951. Inge Kings work is shown by The Australian Galleries.
[ultimate_spacer height="20″]
"I am basically a monumental sculptor. I only eventually found out what I wanted to do by gradually working through it. Here, in Australia, for me there was no other way."
Inge King
Vale Inge King (November 1915 – April 2016)
Art Historical extracts on Inge King from several sources:
The Art of Inge King: Sculptor by Sasha Grishin
Inge King – The Early Years: From Berlin to Melbourne www.Igking.info