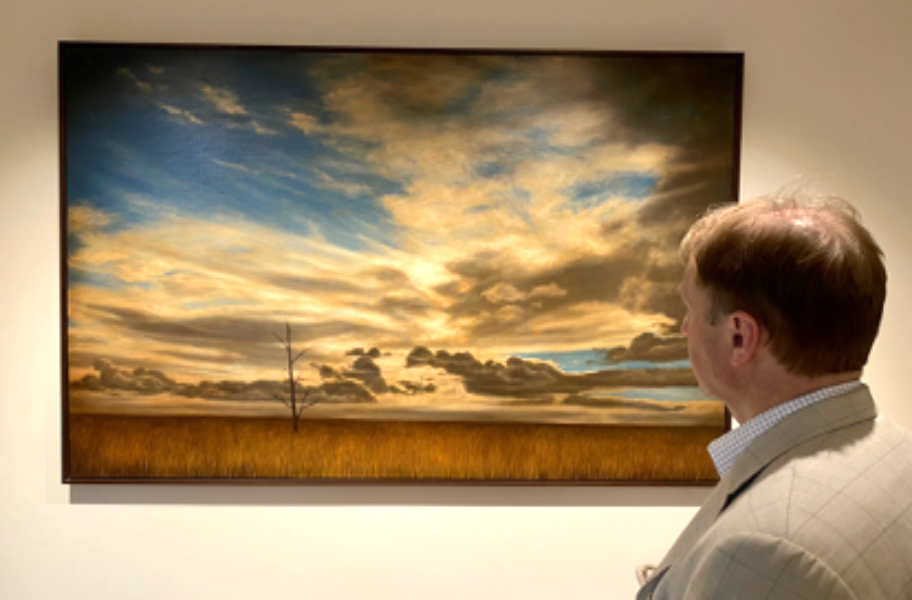 Image by A. McGravie-Wright
""The works that inspire me to collect are those that resonate deeply, challenge me in unexpected ways and inspire curiosity about the context of the artist. The journey will often take months of research to find the piece I am looking for." Belgian Financier and Art Collector, Ronald Rozenbaum
In my work as an art advisor, I have assisted a wide variety of collectors to find their unique path in the acquisition of Contemporary Art. Over many years of working in the Art field, I have observed a few interesting common denominators about the way people collect Art and what motivates them to become Art Collectors.
Whether you are just beginning as a collector or an experienced committed collector, I suggest that it is worth taking a moment to read further and reflect on where your collecting passion lie within historical patterns of past collecting habits & also in current collector trends. It may cause you to reassess your motivation.
My Seven Principle Motivations for Collecting
To support the Arts because Art Collectors understand the value Art has within a society.
To connect with Artists. Many Art Collectors are drawn to the work of a specific artist because their style of work, subject matter or even their life story appeals.
To decorate their living spaces. Art Collectors want to experience the joy of living with their passion and gaining the pleasure of viewing it every day.
To be thrilled by the 'Search'. These Art Collectors are often excited by the discovery of new work for their collection. They often employ full time Curators and Art Advisors to assist them in their research and acquisitions.
Collecting as a reflection of the Collector's personality. The path that a committed Art Collector takes can differ greatly and can be directed by the Art Collectors personality. For example: some collectors stick rigidly to a certain period or style, or choose to collect a specific artist; works from every show, collecting artists works that highlight a shared life story.
To pass on a Legacy. These are Art Collectors whose passion focuses primarily on the path of 'investment for investments sake.' They have gained an understanding of the value of collecting works that can enhance in value over time. Legacy collecting is invariably bequeathed to Museums or younger members of their family. Note: This category of Collector, if
they have inherited, often choose to build on works which are already in the inherited collection.

Image: Peggy Guggeheim installing works at Peggy Guggenheim Museum .
Evan Beard, who writes for Artsy, has presented some interesting research on the subject of modern Art Collectors who operate in Tribes. He claims there are four main Tribes; and I think it is helpful to look at this when considering how you want to collect and what kind of Art Collector you dream of being. I paraphrase his observations about Tribe Collectors below.
A) The Connoisseur: These collectors are viewed as the intellectuals of the Art Market. Connoisseurship is developed over time through considerable effort and devotion. They are so unaffected by accepted taste that many consider them avant-garde. They are deeply influenced by the opinions of an exclusive group of experts.
B) The Enterprising Collector: is wide open to the new & the experimental – these EC Collectors are committed to a kind of moral combat to identify the Art that will matter. They are priced out of 'Trophy Hunting' being too financially driven for 'Connoisseurs.' Note: These Collectors are career makers. Placement with the prestigious EC collector can make a young artists career, sometimes more effectively than a curator or critic.
C) The Trophy Hunter: These collectors are considered rich enough to ignore the social infrastructure of the Art World, but self- conscious enough not to. They believe in the motto "Art delivers two types of pleasures: the joy of looking and the adrenaline of procuring."
D) The Aesthete: The Aesthetic collector is collecting fully in the moment. These collectors are the least self- conscious about being Art Collectors. These collectors tend to be more aesthetically aware of the world around us. Driven more by gut instinct than the current vogue of Art collecting.
I hope you can see from this brief overview that the motivations of Art Collectors from all eras to collect has been researched in the past and continues to be extensively written about. Each of you will have your own set of values and priorities which will influence the way you collect and the very nature of what you collect. It is, useful to reconsider and rethink the nature of Why we Collect, no matter whether that manifests itself through intuitive impulse or analytical assessment.
For many committed Art Collectors… "Art can become the reason for living one's life."