HOW TO GAIN A FRESH PERSPECTIVE ABOUT 'CONTEMPORARY ART PRACTICES'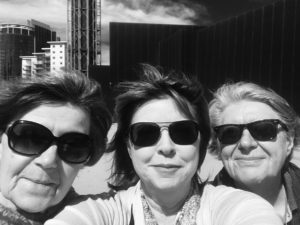 Last month, I taught another short 4 week course for the U3A, Melbourne City Campus. This year I offered: Contemporary Sculptors (Australian & International) and Their Art Practices.
This particular class focused on developing one's visual literacy and a new perspective on Contemporary Art Practice in general. We looked at cultural influences, experimentation with materials, climate art movements, site-specific sculptures vs. design for design's sake. In the fourth week, we go as a class to a selected art exhibition which I feel relates to the topic of the course's focus, in this case Contemporary Sculpture. I love interacting with my U3A students as they teach me as much if not more than I could ever share with them.
The exhibition we selected was EVA ROTHSCHILD's exhibition held at Melbourne's Australian Centre for Contemporary Art, (ACCA) entitled KOSMOS. For more Info:  https://acca.melbourne/exhibition/eva-rothschild/… be inspired go and experience the show for yourself. We loved it.