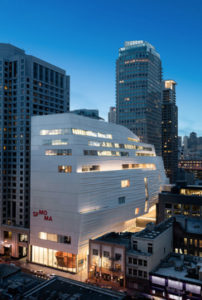 It is hard to believe that it has been three years now since the SFMOMA has been closed to allow them to undertake a major new extension and redevelopment. The original SFMOMA opened in 1935, later it built a post-modern building designed by Mario Botta. This building was quickly outgrown, however, it had a prime real estate location in downtown SF that was kept. Eventually the block of land which adjoined was purchased and a new extension planned.
The exterior of the older building has been left unaltered however, the interior has been cleverly designed to merge the two buildings seamlessly. It is a delight to wander through looking at inspiring art and experiencing the design features of the new building. It's complimentary to aesthetic viewing. Norwegian architectural firm 'Spohetta' have designed a sensational new building to function as a joined extension.
The exterior has been left alone, instead, wedged around it is a distinctive new building of seven floors. It's white rippled façade has been inspired by the waters of the bay surrounding San Francisco and the rolling in of the city's characteristic fog.