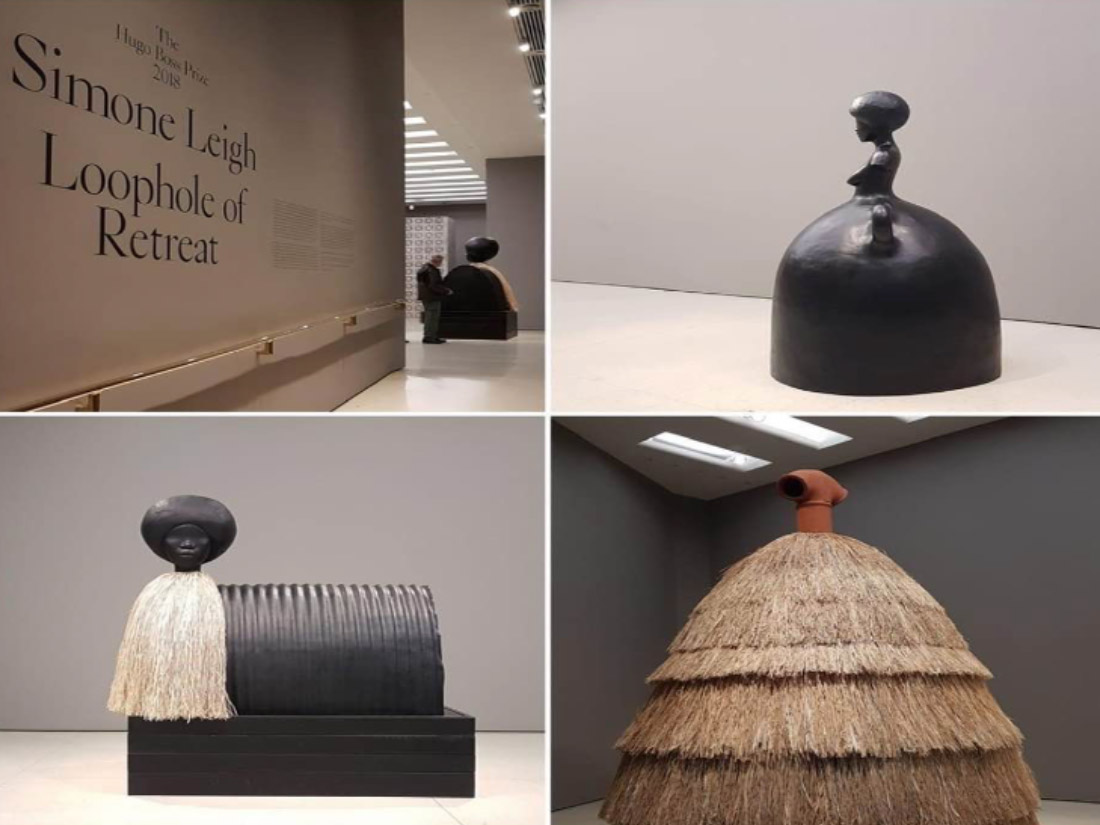 Photos Kat Wilkinson – Guggenheim Exhibition May 2019 'Loophole of Retreat'
"I came to my artistic practice via the study of philosophy, cultural studies, and a strong interest in African and African American art, which has imbued my object and performance-based work with a concern for the ethnographic, especially the way it records and describes objects."  Simone Leigh Wikipaedia
Born in 1967 in Chicago to Jamaican parents, Simone Leigh pursued a BA in Art and Philosophy from Earlham College. Shortly after finishing her studies she shifted to New York City and has lived there for the past 25 years with her daughter. Her studio is in Brooklyn.
Leigh opened 'Loophole of Retreat', her Hugo Boss Prize exhibition at the Guggenheim \Museum in New York, on 19 April, 2019. She has also been awarded a 2019 United States Artist fellowship, and her work has been included in the last Whitney Biennial.
"For years, curators and collectors ignored or dismissed such work, regarding ceramics as craft unfit for blue-chip galleries or museum shows. Yet their disregard gave Leigh the space and time to mature as an artist unbounded by artificial distinctions between craft and 'high art'. The Black Arts Movement of the 1960s and '70s understood 'women's work' as physical evidence of socially transformative ideas…"  Frieze.com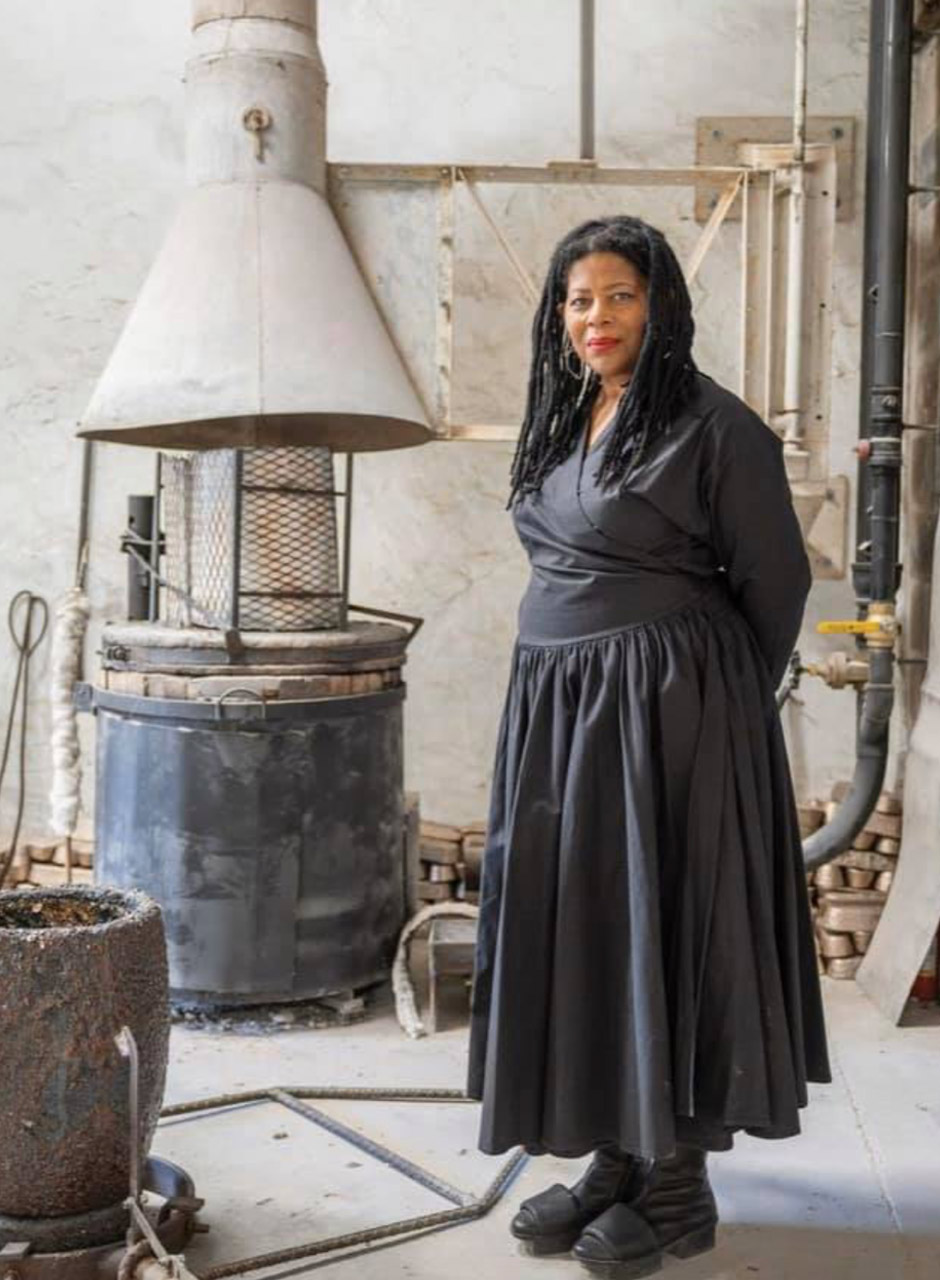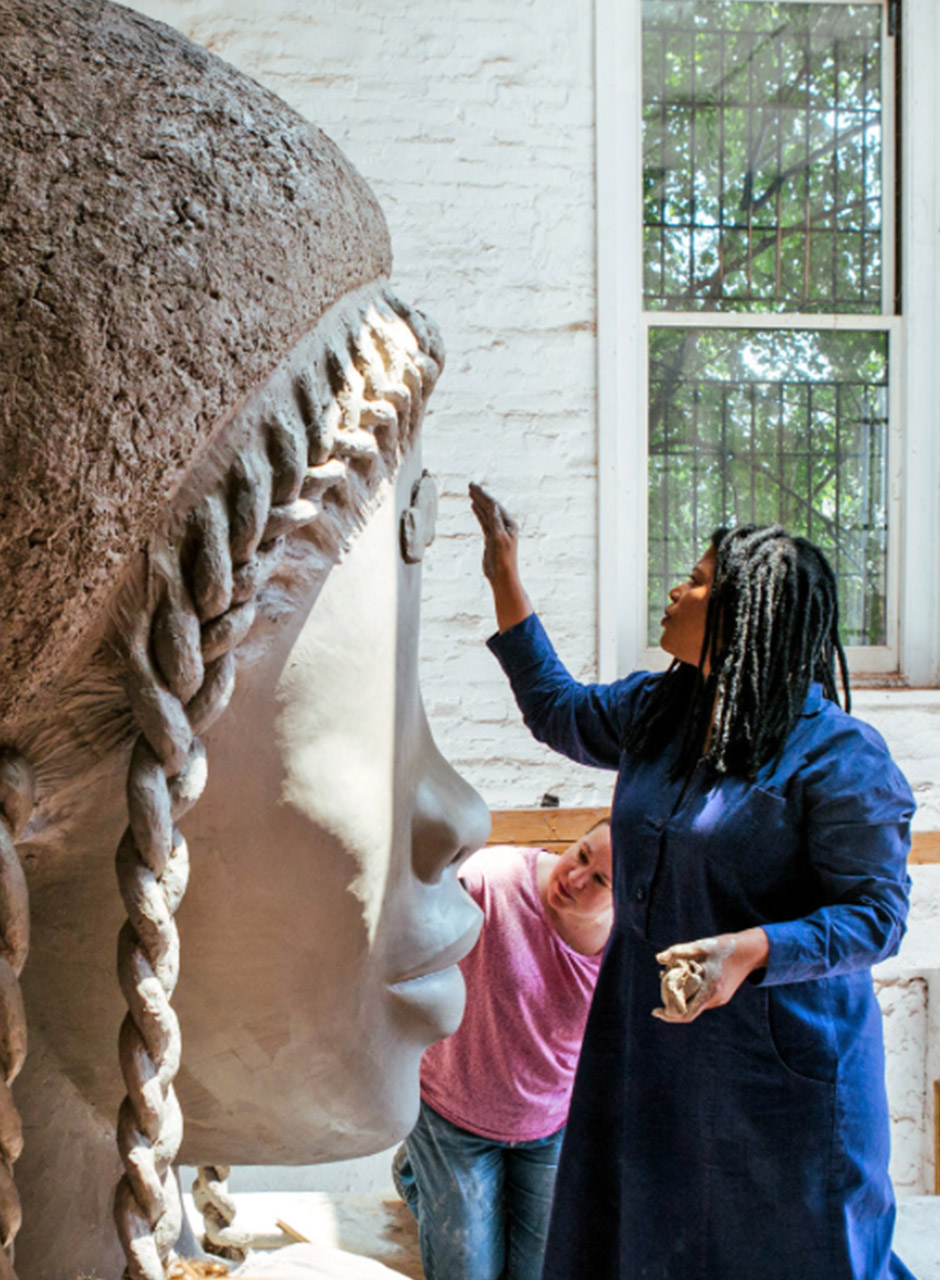 Though her principal medium has long been ceramics, Leigh has made significant works in video, installation and performance, as well as works of generously inclusive social practice.
For example her work, The Waiting Room, presented at the New Museum in 2016, was dedicated to 49-year-old Esmin Elizabeth Green, who died after 24 hours of waiting, neglected, in a New York City hospital receiving room.
Most recently, Leigh was commissioned by the Mayor of Washington DC., Muriel Bower, to create the text and designed message 'Black Lives Matter' which was painted on the street leading to the White House in Washington, D.C. Completed in permanent street paint, the message features bold, yellow letters that span more than a block of 16th Street and marks a historic moment in the United States after weeks of protests. City workers and volunteers began executing the 'Black Lives Matter' message at 3am prior to the week-end of demonstrations. The new message is just two blocks north of Lafayette Square, where police charged peaceful protestors and released tear gas and flash-bang shells to clear the crowd for a  photo-op for President Trump earlier this week. It sits at the foot of St. John's Church.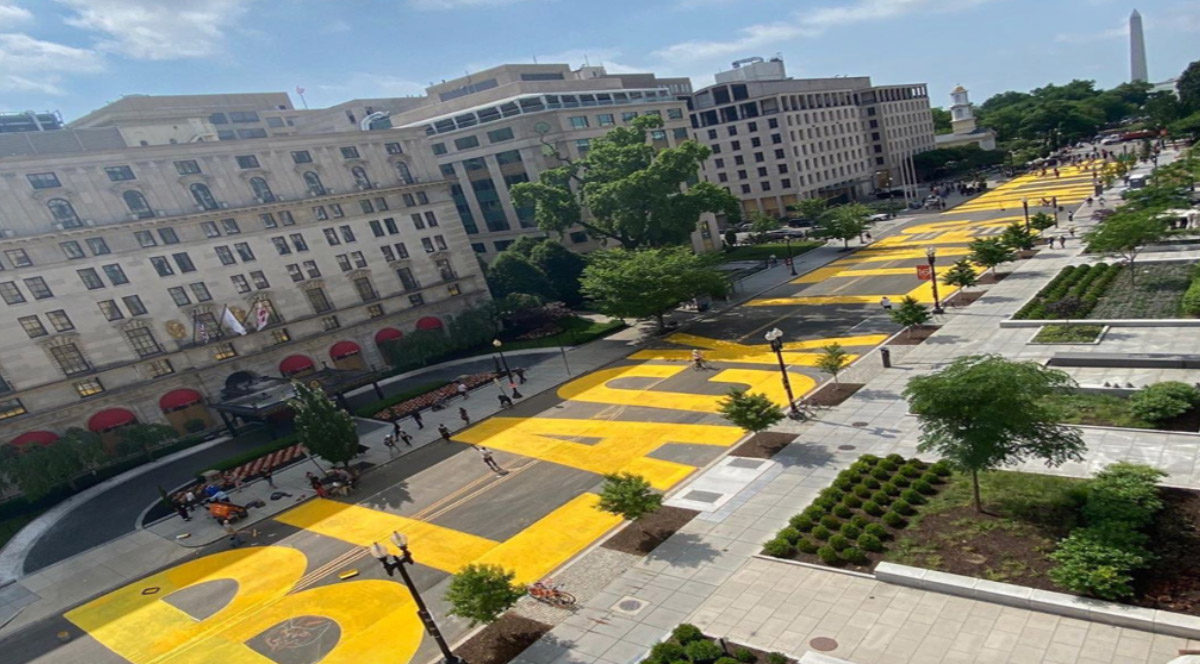 Avec Pleasure first discovered the Art practice of this wonderful artist last year when I had the pleasure of leading our annual Art Tour to NYC & the FRIEZENYC Art Fair, May 2019.
'Part of our action-packed week includes taking in many of the city's major Art venues. The Guggenheim Museum is always on our list. One of the great delights of a week full of interaction with many inspired exhibitions allow time to focus on the impressive art practices presented, is the joy of discovering a new artist whose work you immediately relate to and want to learn more about. Last year my most treasured discovery was finding Simone's small show of works.' Anne of Avec Pleasure
Avec Pleasure is hoping the world will heal enough from Covid-19 to allow us
all to revisit the wonderful city of NYC which will need our help & support as Art Tourists to enable NYC to return to it's previous creative endeavours.
If so, we will definitely have another walk along the HIGH-LINE in Chelsea and we will look forward to taking in Simone Leigh's wonderful sculptural addition to the walk.
I hope that you have enjoyed this essay about Simone Leigh's poignant work and that you will be inspired to find out even more about her impressive Art practice.
For your interest – I have attached the links to a few additional video introductions & interviews with Simone about her work. Hope you enjoy. Send me your feedback and thoughts when time allows.
Simone Leigh, winner of the 2018 Hugo Boss Prize, introduces new works made for the exhibition "Loophole of Retreat."
"I'm really excited about the new works that I made for this show… Having to use my entire body and mind to make the work was really exhilarating." Her solo exhibition, "
The Hugo Boss Prize 2018: Simone Leigh, Loophole of Retreat" was on view April 19 through October 27, 2019 at the Solomon R. Guggenheim Museum in New York City, NY.