Image Credit: A McGravie-Wright
Ai Weiwei is a Chinese artist who is Beijing-based. He is defined as both artist and activist and his work encompasses sculpture, installation, photography, film, architecture, curation, and social criticism. His works are collected Internationally and have been featured in major solo exhibitions including Ai Weiwei at Blenheim Palace, Woodstock, UK, 2014; Evidence at the Martin-Gropius-Bau, Berlin, 2014; and Ai Weiwei: According to What? This show was organized by the Mori Art Museum, Tokyo, 2009. Ai Weiwei has also collaborated with architects Herzog & de Meuron on the "bird's nest" stadium project for the 2008 Beijing Olympics. He has been the recipient of numerous awards and honors, including Amnesty International's Ambassador of Conscience Award in 2015.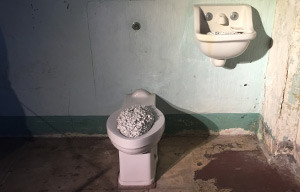 The FOR-SITE Foundation, established in 2003, is dedicated to "the creation, understanding, and presentation of art about place"
The projects they fund, commission and co-ordinate are "based in the belief that art can inspire fresh thinking and important dialogue about our natural and cultural environment".
Acting as the principle organizing-funding agency for @Large, FOR-SITE has put together an inspirational new model for engaging audiences through artistic collaborations on US national park land. In @Large: Ai Weiwei on Alcatraz, the renowned Chinese artist and activist created a series of new installation works specifically for Alcatraz Island. Ai Weiwei picked this venue because of its past notorious use as a prison now turned into a popular national park destination. AWW is internationally recognized for his unique art practice. A prolific practice which has defined a distinct separation between art and activism.
The following works created specifically for the Alcatraz site:
'With Wind' | Installation | (hand made kites made of paper,silk and bamboo)
'Trace' | Installation | (series of LEGO portraits made in LEGO bricks)
'Refraction' | Installation | (sculpture made from Tibetan solar panels, steel)
'Blossom' | Installation | (porcelain flowers, hospital fixtures, sinks, toilets)
'Yours Truly' | Installation | (interactive, custom postcards, chairs and table)
'Stay Tuned' | Installation | (audio files, speakers, custom-made furniture)
In this exhibition of new works created specifically for Alcatraz, AWW responds to the island's layered legacy as a once military fortress, a notorious federal penitentiary, a site of Native American protest, and more recently, America's most visited national parks. The challenging exhibition raises questions about freedom of expression and human rights that resonate far beyond this particular place.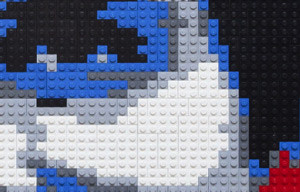 AWW's sculpture, sound pieces, and mixed media installations occupy 6 locations within the abandoned Alcatraz buildings: a group of cells in A block, the Hospital and the Dinning room. Many of these areas are usually restricted to the public. @ Large has turned Alcatraz into … "a space for dialogue about how we define liberty and justice, individual rights and personal responsibility."
This is the first time Alcatraz Island has been given over to a contemporary artist to create an exhibition of this scale.
By Anne McGravie-Wrght